SkinDot opens a new, innovative therapeutic approach for wound care of IIb° – III° burn wounds, acute full-thickness defect wounds, chronic wounds as well as in surgical scar correction. In this approach, 1-3 mm full-thickness skin islands are harvested, implemented into a matrix, and the matrix with the islands is transplanted onto the wound. The result is a stable and resilient autologous skin substitute.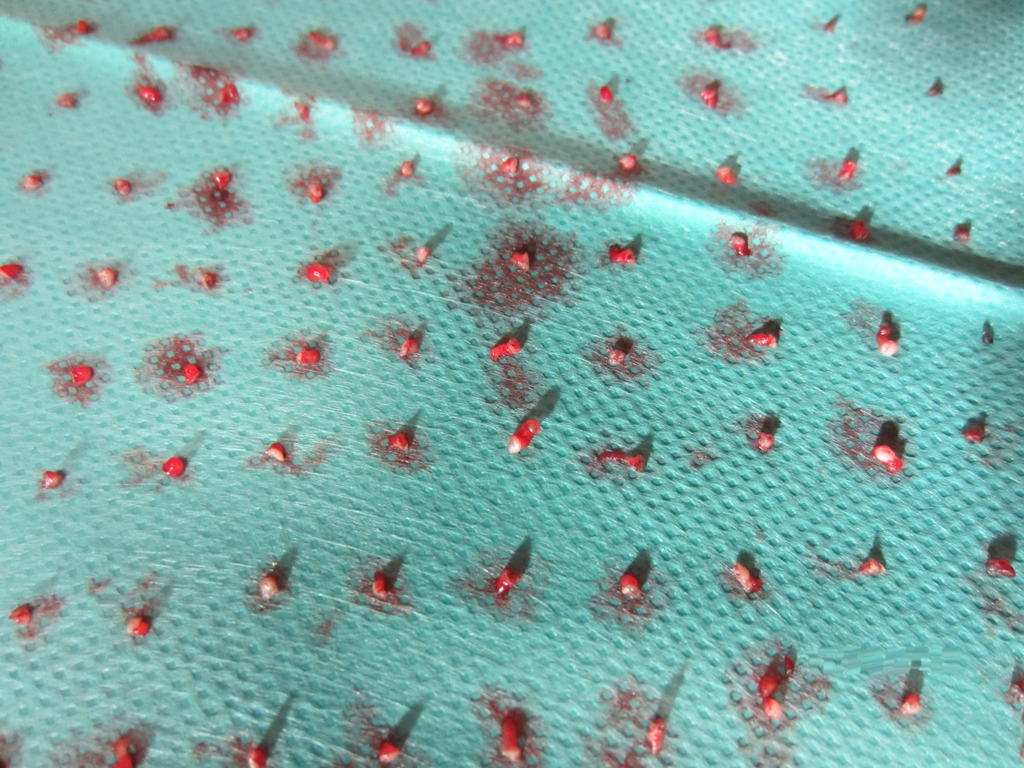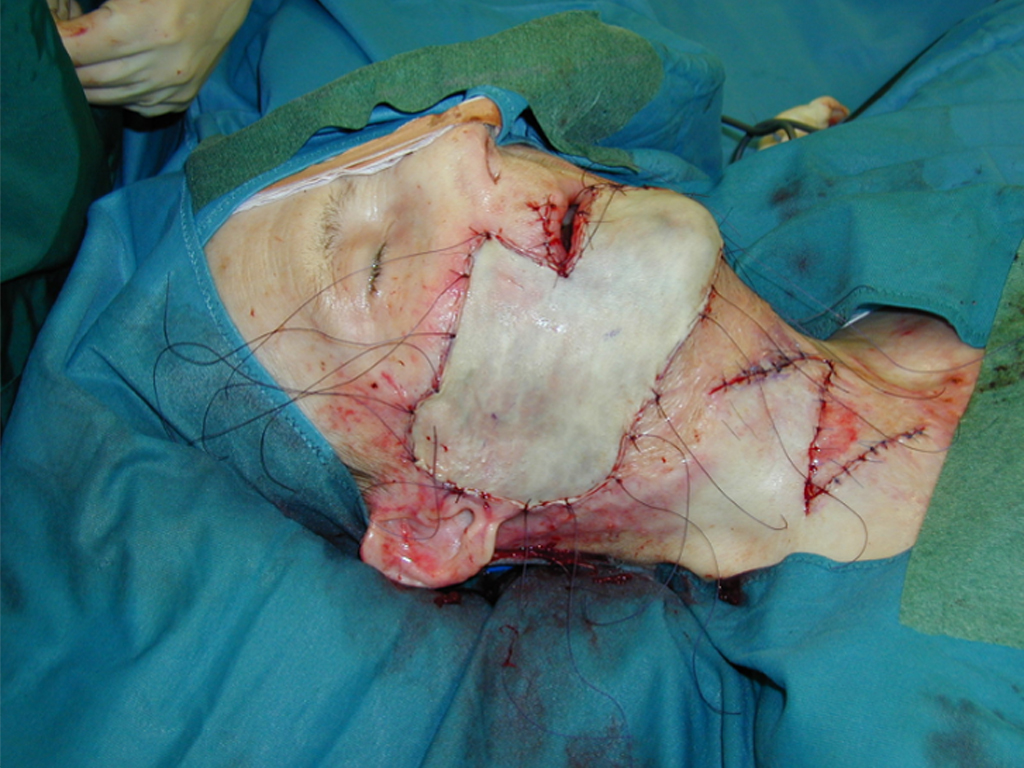 The best skin replacement is our goal
.
Nothing is better than the original. A full-thickness skin defect is best replaced with autologous full-thickness skin. Through our years of expertise in burn surgery and the treatment of problem wounds, we have developed the new SkinDot surgical procedure in which 1-3 mm full-thickness skin islands are transplanted into the wound area using matrix. Due to the small 1-2 mm distance between the transplanted skin islands, all skin layers confluence, resulting in an almost identical skin replacement. After more than 10 years of intensive preliminary work and publications within the research network between the University of Lübeck, the Technical University of Lübeck and the Unfallkrankenhaus Berlin, we are offering the SkinDot procedure to patients worldwide for the first time.

Epidermal skin grafting is the standard surgical procedure in acute and chronic wound care as well as burn surgery, but does not result in the replacement of a full dermal skin layer. Dermal skin layers are indispensable as a displacement layer and carrier of skin appendages such as hair, sweat and sebaceous glands as well as nerve receptors for pressure, vibration and temperature sensation and thus for the quality of the transplanted skin: "Epidermis is Life, Dermis is Quality of Life". This statement by Michel Rives in 1994 is still undisputed today. However, full-thickness skin grafts cannot be transplanted over a large area due to the limited donor area, i.e. a maximum of 2-3% of the body surface can be covered by full-thickness skin to date. Cultured skin procedures based on cultured skin cells in the laboratory could not be developed for full-thickness skin replacement at present. In particular, the implementation of skin appendages has not yet been successful in cultured skin.
SkinDot® is developing a new transplantation procedure with corresponding technical devices (devices) that will enable immediate autologous intraoperative wound care and result in a large-area full-thickness skin equivalent.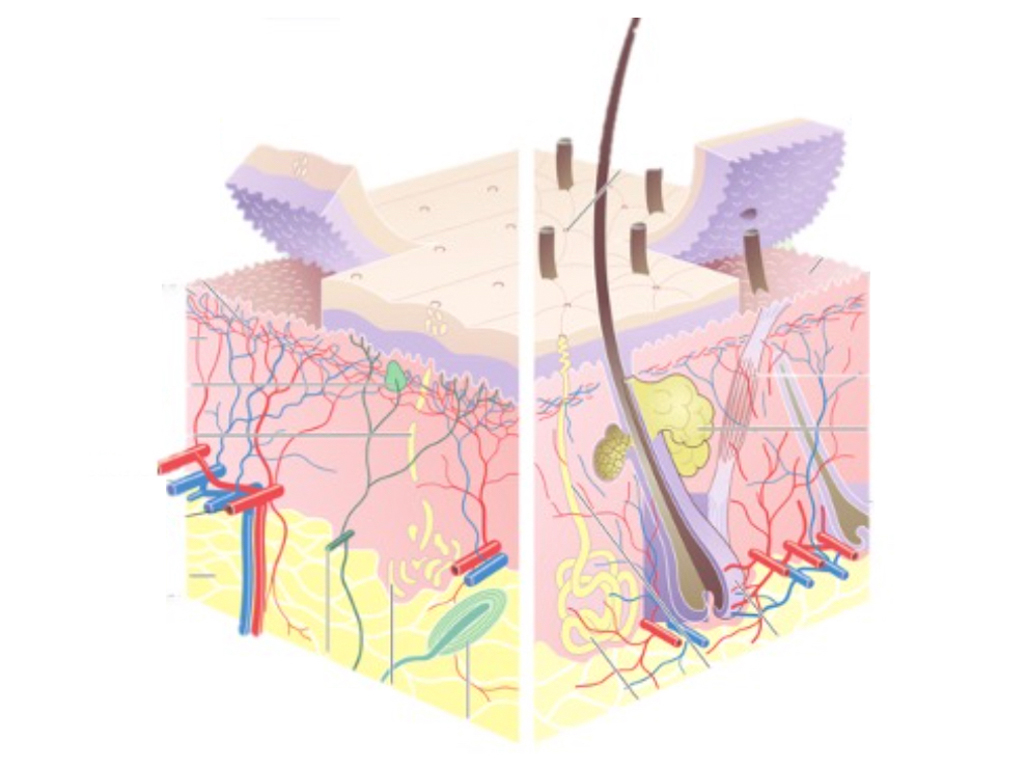 Current transplantation procedures:
Kein Vollhautersatz bei großflächigen Transplantationsverfahren. Zum Einsatz kommen fast ausschließlich epidermale, dünne Spalthaut-Transplantate ohne Anhangsgebilde.
Begrenztes Vollhaut Spenderareal. Nur 2-3 % der Körperoberfläche kann mit Vollhaut transplantiert werden.
Deutliche Stigmatisierung durch Narbenbildung bei herkömmlichen Transplantationsverfahren.
Die große Hoffnung in die Kultivierung von Hautzellen im Labor konnte nicht realisiert werden.
Das von SkinDot® entwickelte neue Verfahren:
SkinDot® ermöglicht die Transplantation eines hochwertigen autologen Vollhautäquivalents, welches der Qualität der Vollhaut entspricht und alle Hautanhangsgebilde einschließlich multipotenter Stammzellen enthält
Sofortige und unbegrenzte intraoperative Verfügbarkeit (ohne Zellzüchtung)
Die Vollhaut-Abnahme ist ubiquitär am Körper möglich. Sofortiger Wundverschluss (einzeitiges OP-Verfahren)
Geringe Spendermorbidität mit kosmetisch günstigen Ergebnissen-, fast narbenfreie Entnahme ubiquitär möglich
Hohe Beanspruchbarkeit durch Transplantate der dermale Verschiebeschicht

The new, innovative SkinDot approach to how dermal layers, or full-thickness skin, can be transplanted consists of further miniaturizing the Reverdin and Davis methods. Inspired by the 1869 transplant method of Frenchman Jaques-Louis Reverdin, JS Davis, the father and pioneer of American plastic surgery, described a new full-thickness skin transplant method called "The small Deep Graft." Davis successfully grafted 2-5 mm islands of skin individually onto the wound.
The islets were obtained using cannulas, and his full-thickness skin grafting method was correspondingly time-consuming. Due to the lack of technical capabilities in the early 21st century to significantly speed up this technique using a device, Davis chooses to space the individual transplanted full-thickness skin islets up to 0.75 cm apart, resulting in a cobblestone relief as a cosmetically unfavorable full-thickness skin equivalent.
Backdropping the work of Reverdin and Davis, the interdisciplinary university research group "SkinDot" at the University of Lübeck is developing various devices that enable automated transplantation of 1-3 mm full-thickness skin islets.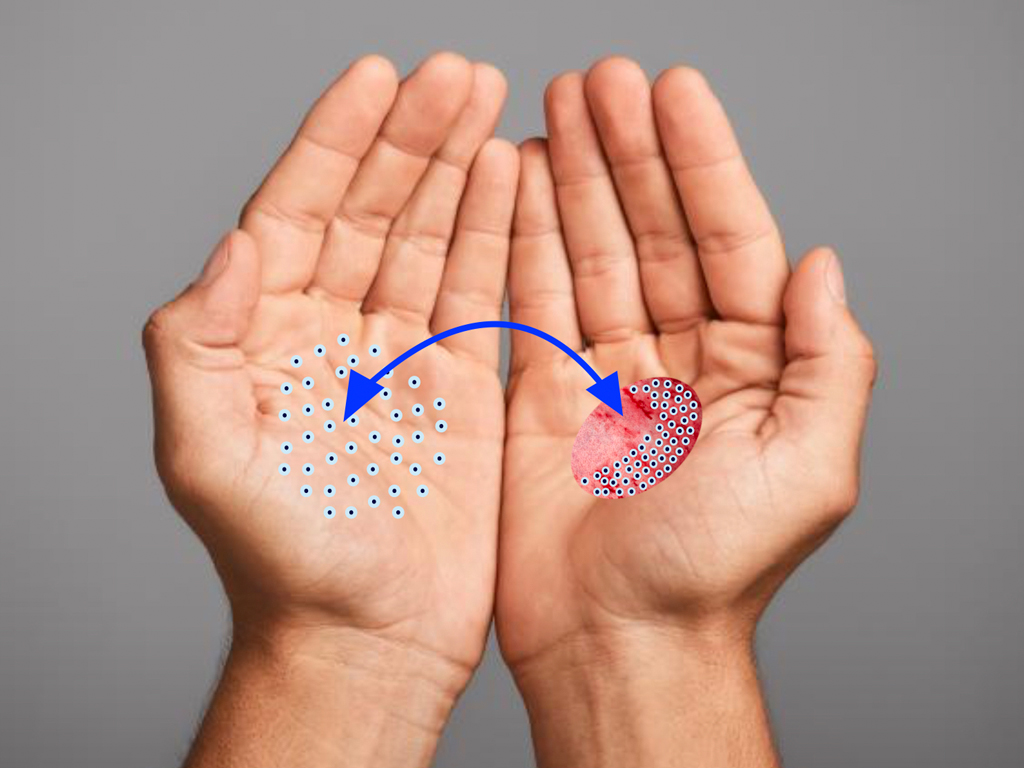 Autologous full-thickness skin replacement by transplantation of 1-2 mm full-thickness skin islets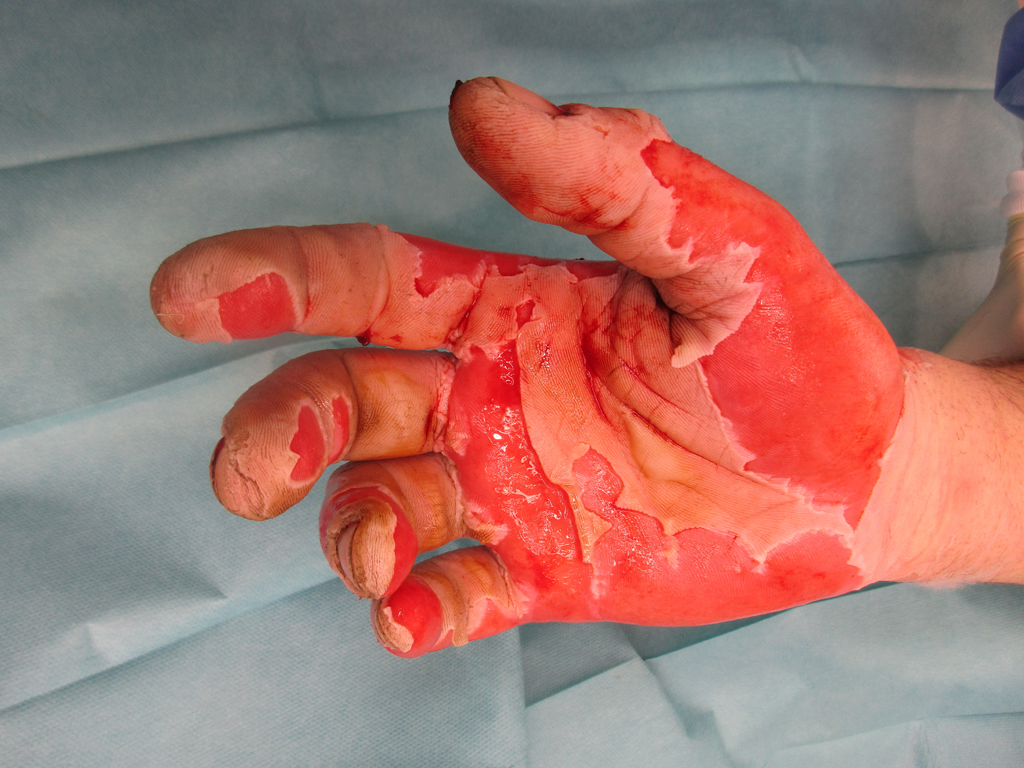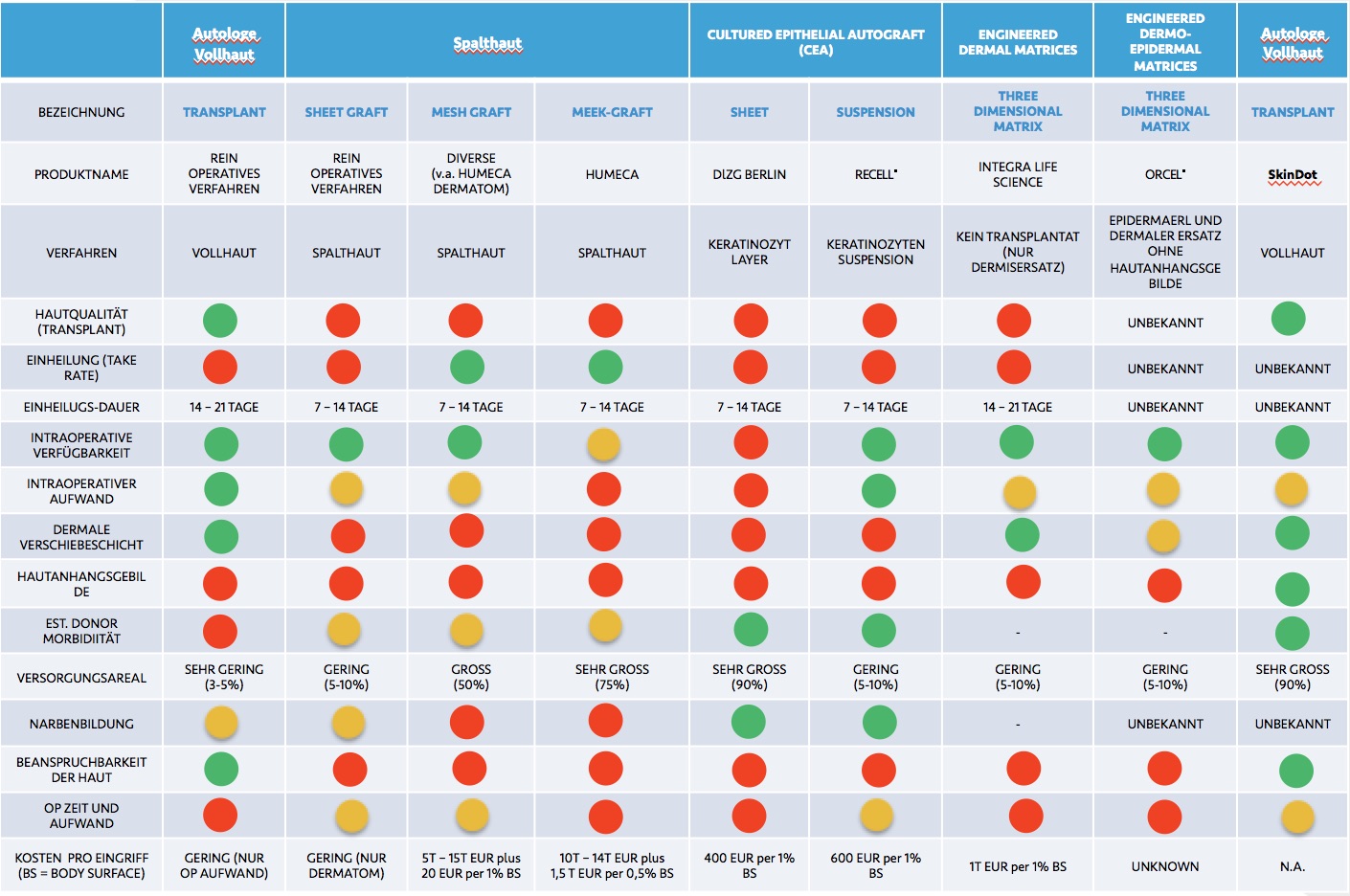 Absence of dermis replacement
Due to the limited full-thickness skin donor area, split-thickness skin grafting remains the state-of-the-art method in the treatment of patients with large burns. A maximum of 2-3 percent of the body surface can be transplanted with autologous full-thickness skin, and larger areas can only be transplanted after complex and lengthy surgical pretreatment using expanders.
.
Split skin grafting, however, does not result in the replacement of a dermal skin or shifting layer and may not be an ideal outcome for patients, particularly due to the absence of skin appendages.
The use of allogeneic and alloplastic dermal substitute matrices has significantly improved the quality of transplanted split skin in recent years, but remains complex, fragile, and expensive, particularly due to the need for two-stage application above a reasonable dermis thickness. Through the SkinDot procedure, all skin layers, including dermal layers, are transplanted, eliminating the need for further dermis replacement and resulting in a thick and stable dermis through the full-thickness skin equivalent.
Expectations for culture skin too high
In 1975 -1979, Rheinwald and Green described the first clinical results of transplantation of test tube cultured epidermal cells. Since 1981, cultured epidermal autografts ("CEA") have been routinely used in the treatment of severely burn injured patients. However, it was not until the work of Cuono in 1987 and Hickersen in 1994, which additionally described allogeneic dermis in the wound bed before CEA transplantation, that the take rate of transplantation of laboratory-cultured keratinocytes improved.
Bilaminar skin substitute matrices of keratinocytes and fibroblasts are now commercially available, and research on tri- and multilaminar constructs of cultured cells for skin transplantation is ongoing worldwide, so that these tissue engineering procedures have now even developed their own terminology with the term "skingineering." Other engineered dermal matrices and engineered dermo-epidermal matrices will become transplantable in the future.
However, the high expectations for CEA have been significantly disappointed. Forty years after Rhenwald and Green, no mutant skin cell layers are available because the skin as an organ with corresponding cell-to-cell communication was completely underestimated.
SkinDot circumvents the problem because no cells need to be grown in the laboratory. Just one 3-mm full-thickness skin island transplanted using SkinDot contains more than 400,000 of the body's own cells, making cell cultivation in the laboratory obsolete.
You want to offer the new SkinDot procedure to your patients? Contact us!

Skin Transplantation beyond
SkinDot - Kerckringstr. 28, 23554 Lübeck